There are several types of harmonicas, and within each type, a great variety of brands and models.
In this article you'll find out which is, in my opinion, the best harmonica for beginners.
Before asking ourselves which harmonica to buy, we should have an idea of what music style we would like to play on the harmonica. For example, if we want to play blues, rock, country, or folk, the best choice will be a diatonic 10-hole harmonica aka blues harmonica, as it's the most commonly used to play this style.
If you go for this type of harmonica, make sure it's tuned in the key of C (you'll see a letter C indicating it) – which refers to DO in the solfège system. This is a medium key and one of the easiest for beginners to play (not too high, not too low). Besides, you'll find many exercises and easy songs in this key.
However, if you're interested in classic music, bossanova, jazz or tango, your best choice will be a chromatic harmonica. This type of harmonica has a button on the side to achieve additional notes.
By the way, let me tell you my webpage is specifically oriented to the teaching of the diatonic 10-hole harmonica.
Which harmonica to buy?
Here's my top 5 harmonicas for beginners
Hohner Special 20
Tombo Lee Oskar
Hohner Golden Melody
Hohner Blues Harp
Hohner Big River Harp
1. Hohner Special 20
This is absolutely the best harmonica for beginners, and it's the best value for money. It's also the best harmonica in terms of response to clean sound in each hole and in bending notes. It's unbeatable and the one I recommend the most. Besides, you can get it for about 45 dollars.
The little down side of this one is that it can cause sticking problems in the hold movements, especially to people with dry lips. A solution to this would be to keep your lips humid while playing. Other than that, it's an excellent harmonica – and totally worth the price!
2. Tombo Lee Oskar
It's a Japanese harmonica of great response to simple notes. You'll find bending pretty easy with this one, though not as much as with the Golden Melody. You'll want to use the one with the orange label (Major diatonic model).
Its´s a little hard to get a clean sound out of a single hole on this harmonica due to the size of the holes and the distance among them. Its strongest gain is its durability. I've met several colleagues who have been playing Lee Oskar for over a decade without any tuning issues.
3. Hohner Golden Melody
It's the most comfortable harmonica to hold as all its edges are rounded, and it's also comfortable to play. It has an excellent response, which makes clean notes easy, and bending notes even easier.
Of all the mid-range models I have tried, this harmonica will give you the easiest bending. The setback of this harmonica is its durability (approximately 2 years).
4. Hohner Blues Harp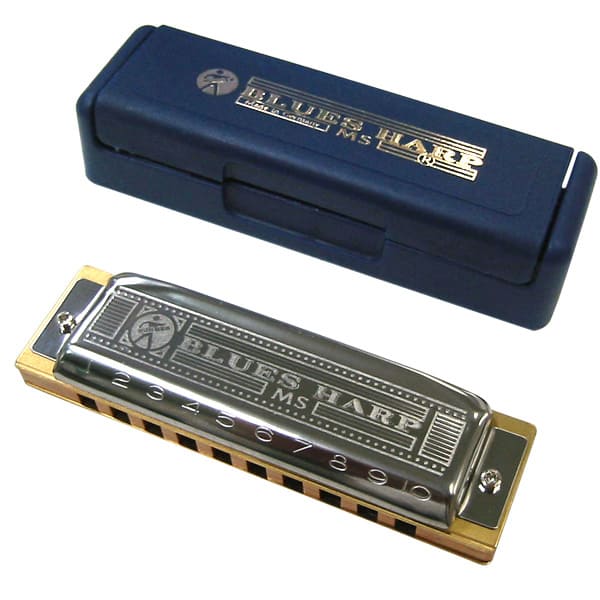 It could be said that its strong point is movement. This type of wood in the comb remains quite humid, so there is no need to moisten your lips to play – as you probably would on harmonicas with plastic body or comb.
The down side of this model is that bending notes are harder to achieve, especially deep bends like 2 draw and 3 draw whole step bend and 3 draw whole and a half step bend.
It's quite easy to get clean sound in each hole thanks to the space between them.
5. Hohner Big River Harp
It's a lower mid-range harmonica, but it's better than any of Hohner's cheapest models made in China. In fact, this model is made in Germany.
It's affordable – not more than 30 dollars, but its mouthpiece is not comfortable; the "sandwich" is high and it's hard for people with a relatively small mouth to get clean sound (sound of a single hole) on this harmonica. By "sandwich" I mean the total height of the harmonica – cover plates and comb.
If you have any experience with these or other brands or models, I would like to know your opinion. Leave your comment below, and I'll be responding shortly.
Join my Newsletter
As soon as you subscribe, I will send you 5 awesome tips to get you started.