Start having fun RIGHT NOW with these 10 popular and easy to learn songs!
Traditional and popular songs:
All notes are mainly in the middle register of the harmonica: holes 4 to 7, the easiest notes to play.
These are simple songs, but to play them well you should have good control of all the notes in the middle register, both individually and while moving between holes.
It is also advisable to apply articulations using syllables like "TA" and "DA" when doing repetitions of blow and draw notes, respectively. These articulations separate the notes and give them a more defined starting sound or accent.
For example, when we play a hole 4 blow and then repeat it, instead of blowing twice (with two separate airflows), we will only blow once, and by using the syllable "TA" as an articulation, the continuous airflow will be interrupted when your tongue fastly hits the hard palate, separating the notes. As a consequence, the sound of the repeated note will be clearer.
In 9 of these songs you will see that on the tabs there are as many articulations as repeated notes.
The songs are arranged by difficulty, and each song has a slow practice version and an original tempo version. It will be useful to learn each song bit by bit, and then play it all together.
Playing a song with a clean sound is more important than playing it fast.
"This Old Man" and "Jingle Bells" have several articulations and many passages with hole leaps, which make them even more demanding for a beginner.
When you jump holes, you must not move your mouth too far from the harmonica; just try to keep the gap to a minimum to land right at the center of the hole you want to play next. When you jump from holes 6 to 4, you could accidentally play hole 5 by falling short, or hole 3 by jumping too far. At first, problems with playing hole leaps are very common because you may not have a good reference on the harmonica yet, but you will improve this with practice!
The tablature I use is the arrow system – up arrows for blow notes and down arrows for draw notes. Learn more about different tablature systems in this article: "How to read harmonica tabs"
I play all the songs with a 10 hole diatonic harmonica in the key of C (letter C).
1. Alouette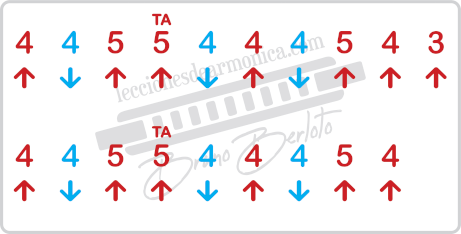 Slow Tempo (80 bpm)

Original Tempo (100 bpm)

2. Ode to Joy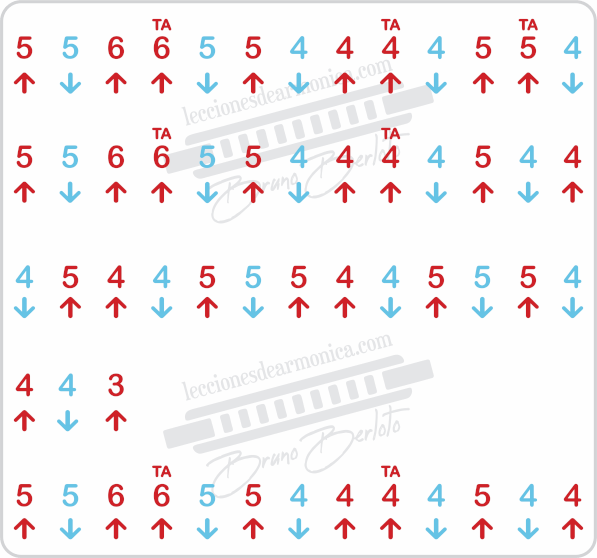 Slow Tempo (90 BPM)

Original Tempo (140 BPM)

The second part of the song (last 3 lines) is repeated. Although the tablature says 3 blow, which is the note of the original song, the last line in the audio is recorded in the same note one octave higher (G in the middle register). Playing 6 blow instead of 3 blow is a variant to test the jump from hole 4 to 6 since we are working with holes 4, 5 and 6 at this point – the easiest ones to play on the harmonica.
3. Mary Had a Little Lamb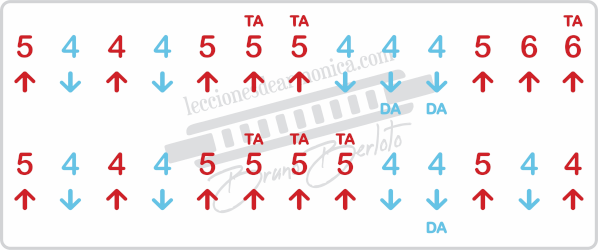 Slow Tempo (120 bpm)

Original Tempo (160 bpm)

4. Camptown Races
Slow Tempo (80 bpm)

Original Tempo (100 bpm)

5. Oh Susanna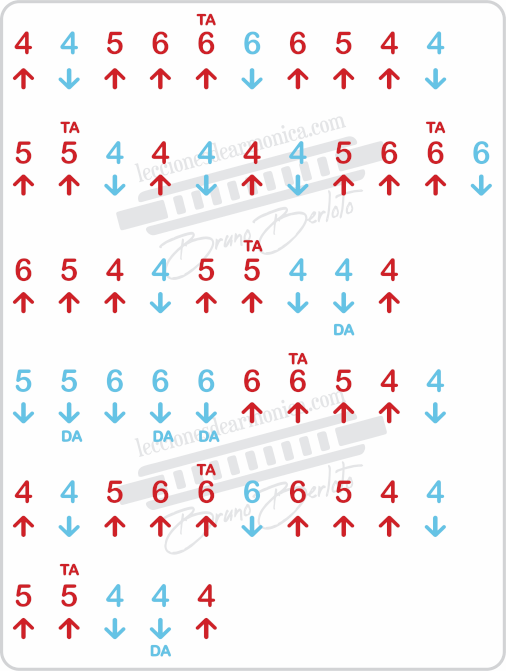 Slow Tempo (90 bpm)

Original Tempo (140 bpm)

6. When the Saints Go Marching In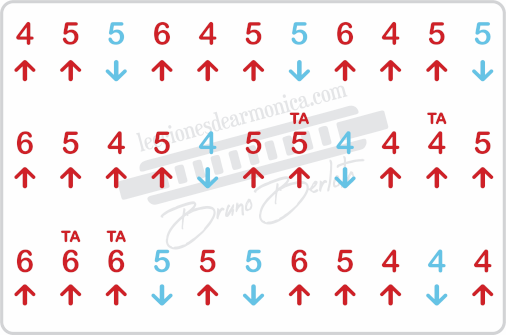 Slow Tempo (120 bpm)

Original Tempo (160 bpm)

7. This Old Man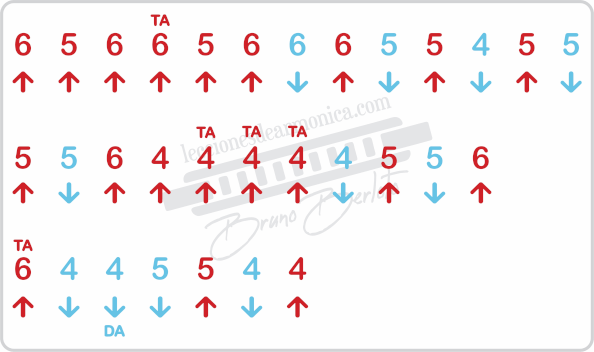 Slow Tempo (120 bpm)

Original Tempo (160 bpm)

8. Jingle Bells (First part)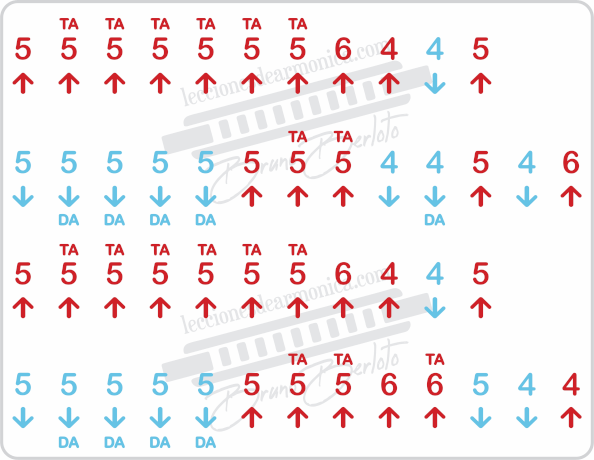 Slow Tempo (80 bpm)

Original Tempo (110 bpm)

9. Home Sweet Home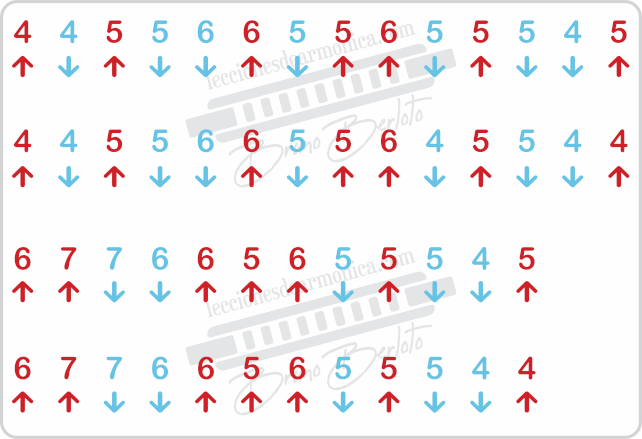 Slow Tempo (65 bpm)

Original Tempo (80 bpm)

10. Happy Birthday
Ok! You've played well all previous 9 songs… now let's make things a little more challenging with the classic, well known song "Happy Birthday".
Here we add holes 8 and 9 from the high register; you´ll see they are not so easy to play…
I´ll give you a little advice on how to play these holes: exhale and inhale more gently, never force the air!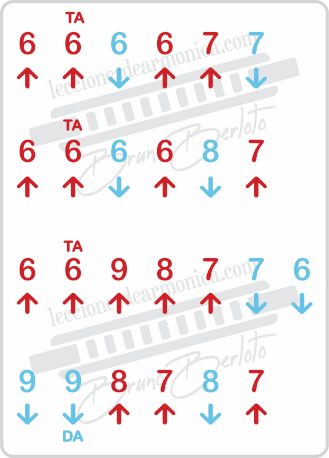 Slow Tempo (80 bpm)

Original Tempo (110 bpm)

Join my Newsletter
As soon as you subscribe, I will send you 5 awesome tips to get you started.